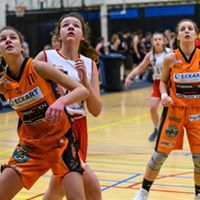 On this page you will find the list of registered teams in each age group.
Number of registered teams: 166
Number of participating countries: 18 (Belgium, Czech Republic, England, Finland, France, Georgia, Germany, Ireland, Italy, Lithuania, Luxemburg, Netherlands, Slovenia, Spain, Sweden, Switzerland, Ukraine, USA)
Important remarks:
In all age groups above U12, maximum 50 % of the participants will be Belgian, in order to grant the international character of the event. If a higher number of Belgian teams applies, the organizers will select the teams that will be accepted at the event. If the number of foreign teams doesn't reach the 50 % on September 20th, the organizer will complete the roster with Belgian teams figuring on the waiting list.
The basic rule for registration: teams have to play at the highest level in their respective countries.
Last update: December 7th 2023.
Open spots and wild cards
Taking into account the very high number of early applications and in order to ensure the participation of at least 50 % of foregn teams in our competitions U14 and above, the remaining spots in these age groups have been earmarked as follows:

in each of these age groups, the organizers reserve FOUR spots for wild cards that will be awarded to teams choosen by the organization. TWO wild cards will go to Belgian teams, while the TWO other wild cards will be given to non-Balgian teams.
The remaining spots will be awarded following the principle 'first come first served'. For granting the international aspect (at least 50 % foreign teams), only a limited number of open spots will be available for Belgian teams. Below are mentioned in each age group the spots who are 'OPEN' (all teams can apply, including Belgian teams) or who are 'OPEN FOR NON-BELGIAN TEAMS' (only non-Belgian teams can apply).
The total number of participating teams can change in the coming months, as additional venues may become available. In some age groups, we may be able to host 24 teams. The number of open spots will of course be adapted in due time.
Participants list
MEN UNDER 19 GREEN CONFERENCE
| | | |
| --- | --- | --- |
| 1 | COMBINE ACADEMY | USA |
| 2 | BASKETBAL ACADEMY LIMBURG | NETHERLANDS |
| 3 | ATLETAS KAUNAS | LITHUANIA |
| 4 | GET BETTER ACADEMY PRAGUE | CZECH REPUBLIC |
| 5 | BASKET AT SEA OOSTENDE | BELGIUM |
| 6 | ALBA BERLIN | GERMANY |
| 7 | LAURENTY NEXT GEN ACADEMY | BELGIUM |
| 8 | COLLEGE BASKETBALL BORGOMANERO | ITALY |
MEN UNDER 19 RED CONFERENCE
| | | | |
| --- | --- | --- | --- |
| 1 | | ZZ LEIDEN | NETHERLANDS |
| 2 | | EUROPE BASKETBALL ACADEMY | SPAIN |
| 3 | | KD SLOVAN LJUBLJANA | SLOVENIA |
| 4 | | UNITED BASKET WOLUWE | BELGIUM |
| 5 | | BAVI VILVOORDE | BELGIUM |
| 6 | | BASKET U17 | BELGIUM |
| 7 | | FALCO GENT | BELGIUM |
| 8 | | DRIVE BASKETBALL ACADEMY | FINLAND |
| 9 | | RBC LIEGE BASKET | BELGIUM |
| 10 | | HEROES BASKETBALL ACADEMY DEN BOSCH | NETHERLANDS |
| 11 | | CITY OF BADAJOZ ACADEMY | SPAIN |
| 12 | | LOKOMOTIEF RIJSWIJK | NETHERLANDS |
WOMEN UNDER 19 (COMPLETE !)
| | | |
| --- | --- | --- |
| 1 | ALVIK BASKET STOCKHOLM – A | SWEDEN |
| 2 | ALVIK BASKET STOCKHOLM – B | SWEDEN |
| 3 | BASKETBAL ACADEMY LIMBURG | NETHERLANDS |
| 4 | PHANTOMS BOOM | BELGIUM |
| 5 | NOTRE DAME LEUVEN | BELGIUM |
| 6 | LIMBURG LIZARDS | BELGIUM |
| 7 | GANSHOREN DAMES BASKET | BELGIUM |
| 8 | BASKET WAREGEM | BELGIUM |
| 9 | LAURENTY NEXT GEN ACADEMY | BELGIUM |
| 10 | TOURNAI WAPITI BASKET | BELGIUM |
| 11 | BS LEIDEN | NETHERLANDS |
| 12 | LOKOMOTIEF RIJSWIJK | NETHERLANDS |
| 13 | AAMON JEUGD GENTSON | BELGIUM |
| 14 | TRIPLE THREAT HAARLEM | NETHERLANDS |
| 15 | PARIS HOOPERS | FRANCE |
| 16 | LDP DONZA | BELGIUM |
MEN UNDER 16 (COMPLETE !)
| | | |
| --- | --- | --- |
| 1 | UNITED BASKETBAL WOLUWE | BELGIUM |
| 2 | BASKETBAL ACADEMY LIMBURG | NETHERLANDS |
| 3 | BBC MONTHEY CHABLAIS | SWITZERLAND |
| 4 | LOKOMOTIEF RIJSWIJK | NETHERLANDS |
| 5 | ANTWERP GIANTS | BELGIUM |
| 6 | CELERITAS DONAR GRONINGEN | NETHERLANDS |
| 7 | BELFIUS MONS HAINAUT | BELGIUM |
| 8 | LONDON LIONS ACADEMY | ENGLAND |
| 9 | DUBLIN LIONS BASKET | IRELAND |
| 10 | EAST BELGIUM BDA | BELGIUM |
| 11 | BAVI VILVOORDE | BELGIUM |
| 12 | BCO OOSTENDE | BELGIUM |
| 13 | FALCO GENT | BELGIUM |
| 14 | BASKET E17 | BELGIUM |
| 15 | LAURENTY NEXT GEN ACADEMY | BELGIUM |
| 16 | URSPRUNG BASKETBALL ACADEMY | GERMANY |
| 17 | ZAZA PACHULIA ACADEMY | GEORGIA |
| 18 | LEUVEN BEARS | BELGIUM |
| 19 | BVV KÖLN NORDWEST | GERMANY |
| 20 | MOBI | UKRAINE |
| 21 | AAMON JEUGD GENTSON | BELGIUM |
| 22 | HUBO LIMBURG UNITED | BELGIUM |
| 23 | JEUNESSE DE WAMBRECHIES | FRANCE |
| 24 | UCCLE EUROPE | BELGIUM |
WOMEN UNDER 16 (COMPLETE !)
| | | |
| --- | --- | --- |
| 1 | BC ALLEUR | BELGIUM |
| 2 | UNITED BASKETBAL WOLUWE | BELGIUM |
| 3 | BASKETBAL ACADEMY LIMBURG | NETHERLANDS |
| 4 | PHANTOMS BOOM | BELGIUM |
| 5 | LIMBURG LIZARDS | BELGIUM |
| 6 | GANSHOREN DAMES BASKET | BELGIUM |
| 7 | TEAM VALAIS | SWITZERLAND |
| 8 | NOTRE DAME LEUVEN | BELGIUM |
| 9 | BC OOSTENDE | BELGIUM |
| 10 | BASKET WAREGEM | BELGIUM |
| 11 | LAURENTY NEXT GEN ACADEMY | BELGIUM |
| 12 | TG WURZBURG BASKETBALL | GERMANY |
| 13 | TOURNAI WAPITI BASKET | BELGIUM |
| 14 | BS LEIDEN | NETHERLANDS |
| 15 | BASKET NAMUR CAPITALE | BELGIUM |
| 16 | MBCA AMSTELVEEN | NETHERLANDS |
| 17 | MOBI | UKRAINE |
| 18 | AAMON JEUGD GENTSON | BELGIUM |
| 19 | LIEGE PANTHERS | BELGIUM |
| 20 | KORTRIJK SPURS | BELGIUM |
| 21 | BASKETBALL ACADEMY UTRECHT | NETHERLANDS |
| 22 | LONDON LIONS ACADEMY | ENGLAND |
| 23 | BASKET HOUTHALEN | BELGIUM |
| 24 | HASSELT BT | BELGIUM |
MEN UNDER 14 (COMPLETE !)
| | | |
| --- | --- | --- |
| 1 | BS LEIDEN | NETHERLANDS |
| 2 | UNITED BASKETBALL WOLUWE | BELGIUM |
| 3 | BASKETBAL ACADEMY LIMBURG | NETHERLANDS |
| 4 | OKAPI AALST | BELGIUM |
| 5 | ANTWERP GIANTS | BELGIUM |
| 6 | LIMBURG TALENT FACTORY | BELGIUM |
| 7 | CELERITAS DONAR GRONINGEN | NETHERLANDS |
| 8 | BELFIUS MONS HAINAUT | BELGIUM |
| 9 | BBC LOMMEL | BELGIUM |
| 10 | TS JAHN MUNCHEN | GERMANY |
| 11 | BAVI VILVOORDE | BELGIUM |
| 12 | FALCO GENT | BELGIUM |
| 13 | BCO OOSTENDE | BELGIUM |
| 14 | BASKET WAREGEM | BELGIUM |
| 15 | TTL BASKETBALL BAMBERG / FREAK CITY ACADEMY | GERMANY |
| 16 | BC LAMETT ZWEVEGEM-DEERLIJK | BELGIUM |
| 17 | HEROES BASKETBALL ACADEMY DEN BOSCH | NETHERLANDS |
| 18 | BG ZEHLENDORF BERLIN | GERMANY |
| 19 | VFL KIRCHHEIM KNIGHTS | GERMANY |
| 20 | PARIS HOOPERS | FRANCE |
| 21 | AAMON JEUGD GENTSON | BELGIUM |
| 22 | LOKOMOTIEF RIJSWIJK | NETHERLANDS |
| 23 | APOLLO AMSTERDAM | NETHERLANDS |
| 24 | KORTRIJK SPURS | BELGIUM |
| 25 | HUBO LIMBURG UNITED | BELGIUM |
| 26 | BAYER 04 LEVERKUSEN | GERMANY |
| 27 | TEAM GENEVE | SWITZERLAND |
| 28 | LONDON LIONS ACADEMY | ENGLAND |
WOMEN UNDER 14 (COMPLETE !)
| | | |
| --- | --- | --- |
| 1 | UNITED BASKETBAL WOLUWE | BELGIUM |
| 2 | PHANTOMS BOOM | BELGIUM |
| 3 | TEAM VALAIS | SWITZERLAND |
| 4 | LIMBURG LIZARDS | BELGIUM |
| 5 | GANSHOREN DAMES BASKET | BELGIUM |
| 6 | TSV HAGEN 1860 | GERMANY |
| 7 | DUBLIN LIONS BASKET | IRELAND |
| 8 | SPORTIFF GRASSHOPPERS KATWIJK | NETHERLANDS |
| 9 | CRACKERJACKERS | NETHERLANDS |
| 10 | BCO OOSTENDE | BELGIUM |
| 11 | BASKET WAREGEM | BELGIUM |
| 12 | TOURNAI WAPITI BASKET | BELGIUM |
| 13 | AAMON JEUGD GENTSON | BELGIUM |
| 14 | KORTRIJK SPURS | BELGIUM |
| 15 | DAMES BASKET HOUTHALEN | BELGIUM |
| 16 | TEAM GENEVE | SWITZERLAND |
MEN UNDER 12 (COMPLETE !)
| | | |
| --- | --- | --- |
| 1 | BC SPRIMONT | BELGIUM |
| 2 | UNITED BASKETBAL WOLUWE | BELGIUM |
| 3 | ANTWERP GIANTS | BELGIUM |
| 4 | LIMBURG TALENT FACTORY | BELGIUM |
| 5 | GSG AARSCHOT | BELGIUM |
| 6 | BAVI VILVOORDE | BELGIUM |
| 7 | BC GENAPPE | BELGIUM |
| 8 | AVANTI BRUGGE | BELGIUM |
| 9 | FALCO GENT | BELGIUM |
| 10 | BCO OOSTENDE | BELGIUM |
| 11 | BASKET WAREGEM | BELGIUM |
| 12 | RSW LIEGE BASKET | BELGIUM |
| 13 | BC LAMETT ZWEVEGEM-DEERLIJK | BELGIUM |
| 14 | GEMBO BORGERHOUT | BELGIUM |
| 15 | EXCELSIOR BRUSSELS | BELGIUM |
| 16 | PORSCHE BBA LUDWIGSBURG | GERMANY |
| 17 | HEROES BASKETBALL ACADEMY DEN BOSCH | NETHERLANDS |
| 18 | UCCLE EUROPE | BELGIUM |
| 19 | AAMON JEUGD GENTSON | BELGIUM |
| 20 | BS LEIDEN | NETHERLANDS |
| 21 | T71 DUDELANGE | LUXEMBURG |
| 22 | KORTRIJK SPURS | BELGIUM |
| 23 | BASKETBAL ACADEMY LIMBURG | NETHERLANDS |
| 24 | PHANTOMS BOOM | BELGIUM |
WOMEN UNDER 12 (COMPLETE !)
| | | |
| --- | --- | --- |
| 1 | AVANTI BRUGGE DAMES | BELGIUM |
| 2 | PHANTOMS BOOM | BELGIUM |
| 3 | GANSHOREN DAMES BASKET | BELGIUM |
| 4 | SAINT QUENTIN BASKETBALL | FRANCE |
| 5 | BASKET WAREGEM | BELGIUM |
| 6 | FEMINA HABAC | BELGIUM |
| 7 | AAMON JEUGD GENTSON | BELGIUM |
| 8 | KORTRIJK SPURS – A | BELGIUM |
| 9 | REBOND OTTIGNIES LLN | BELGIUM |
| 10 | MOBI | UKRAINE |
| 11 | JEUNESSE SPORTIVE DOTTIGNIES | BELGIUM |
| 12 | TEF KAIN | BELGIUM |
| 13 | SPIROU LADIES CHARLEROI | BELGIUM |
| 14 | KORTRIJK SPURS – B | BELGIUM |